Hiking
Safely
in Wyoming Winters
Hiking can be a great way to get outside and stay active in winter. However, weather and temperatures can change quickly in Wyoming, and can make it difficult to get out and explore our outdoor spaces safely, but it does not make it impossible!
In recognition of National Take a Hike Day, the following are some winter safety tips to consider when hiking in Wyoming:
Plan Your Hike in Advance
Check the weather forecast for the day you plan to go, and pack for colder temperatures and unexpected weather.
As weather and communication can be unpredictable in remote areas of Wyoming, so stick to commonly used trails, and pre-planned routes.
If you are planning for a longer hike, you may be forced to spend a night outdoors. Make sure you have a sleeping bag, snow boots, tent, and a snow shovel on hand in case you get stuck.
Alternatively, set a time limit for your hike, with an eye to the skies, and know when turn around to head back early if the weather conditions take a turn for the worse.
Use the Buddy System
Never hike alone, and always let someone know when you are going, where you are going, and when you are expecting to return home.
Winterize Your Hiking Equipment
Temperatures and situations can change quickly during the winter, especially when you are hiking at higher elevations. Here are some items to consider wearing or bringing on your hikes:
Sturdy, waterproof shoes
Extra warm winter socks
Waterproof outer coat
Gloves, hat, and scarf
Layered clothing to take on or off as necessary
Head lamp or flashlight with extra batteries in case you get stuck hiking after dark.
Bring Food
Hiking can use up a surprising amount of energy. Having several quick, shelf stable snacks on hand, like trail mix (check out the featured recipes on this page!), raisins, jerky, dried fruit, granola or granola bars can be a lifesaver in times of emergency, or when hiking with smaller children. If hiking for more than a couple hours, consider packing a few lightweight, shelf stable meals in your bags.
Don't Forget to Hydrate
Dehydration is sometimes harder to recognize in winter. Be sure to have water close by and take sips often. Consider taking an insolated thermos to ensure water does not freeze, especially if planning a longer hike.
Mix and match your favorite ingredients with these high energy grab and go snack mixes.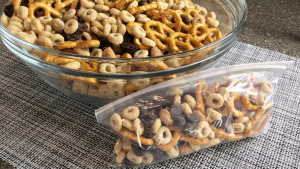 Celebrate National Trail Mix Day every August 31st with this flavorful mix. Try dark chocolate chips or honey roasted peanuts.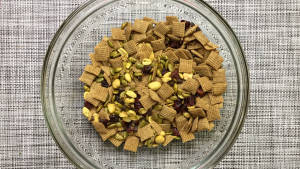 Get fiber on the go in this easy, toasted snack mix.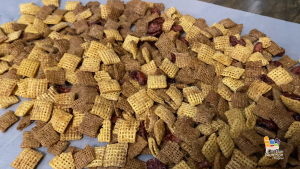 Skip the milk and try this crunchy breakfast mix as a snack.