Sodium can be found in all kinds of foods, from cheese to bread to canned goods and more.   Many Americans consume too much sodium. Knowing which foods can contribute to sodium in your diet, and how to read a label, is an important step in adjusting your diet to fit a healthier lifestyle.
We often think of sodium as adding that salty flavor to foods, but salty foods do not always contain the most sodium.
Sodium can be found in:
deli meats
cheeses
preserved foods like bacon or pickles
processed snack foods
frozen dinners
convenience foods
canned and frozen vegetables
condiments
salad dressings
baked goods like muffins or bagels
sauces, soups and stews
MyPlate recommends that Americans Consume les than 2,300 mg of sodium per day.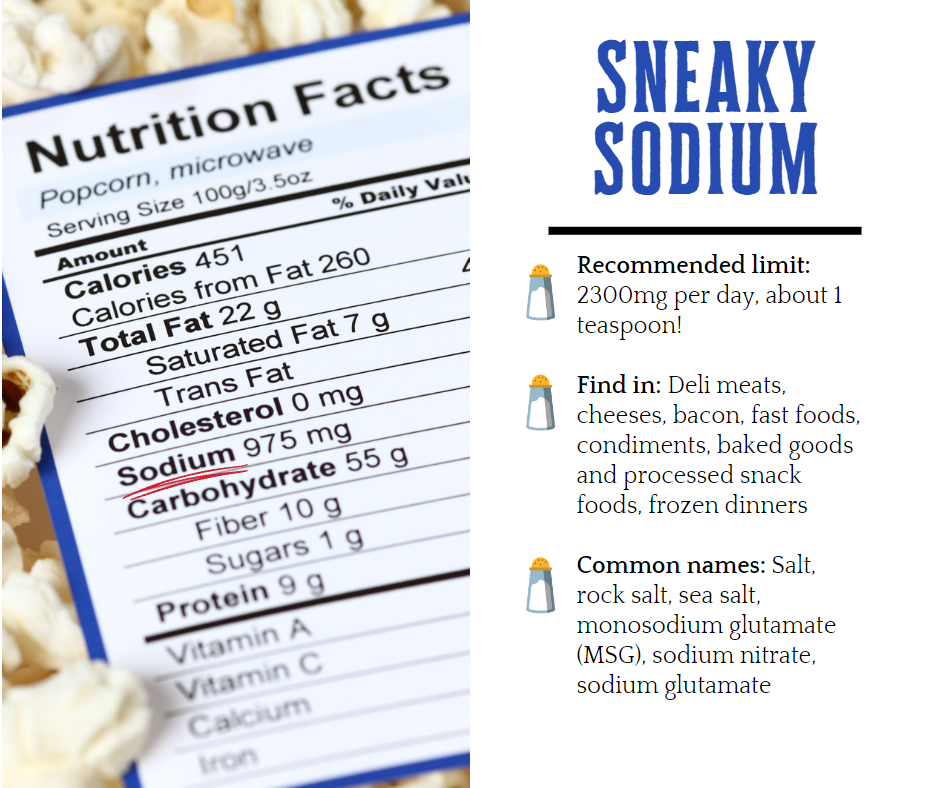 We can get sodium from a variety of sources in our diet, but what about ingredients? Sodium is also known as: salt, rock salt, Himalayan salt, monosodium glutamate (MSG), baking soda (also called sodium bicarbonate), baking powder, disodium phosphate, sodium alginate, sodium citrate, and sodium nitrite.
 Learn more about sodium with Cheryl or Jess in the video below!