Why Add Lentils to Your Plate
This month, CNP is all about lentils! Lentils are a powerhouse of nutrients and are easy on your budget. Here are some of our reasons to add lentils to your plate!
Lentils are both a protein and a vegetable on MyPlate
Lentils are a great source of protein- 1 cup provides 17.9 g of protein
Lentils are a great source of fiber- 1 cup provides 15.6 g of fiber
1 cup of cooked lentils = 1 serving of vegetables
1/4 cup of cooked lentils = 1 serving of protein
Enjoy lentils in soup, chili, casserole, tacos, salad, over rice, as a side instead of beans, in burgers, and more!
If you find yourself arguing with your kids over how much sugary cereal they want to eat, try this little trick CNP educator Debbie Kelly used with her kids.
Click your way around our collection of cereal boxes and become a savvy cereal shopper! Fiber, sugar, whole-grains, and nutrition claims are all good things to consider when choosing a cereal.

Build A Healthy Breakfast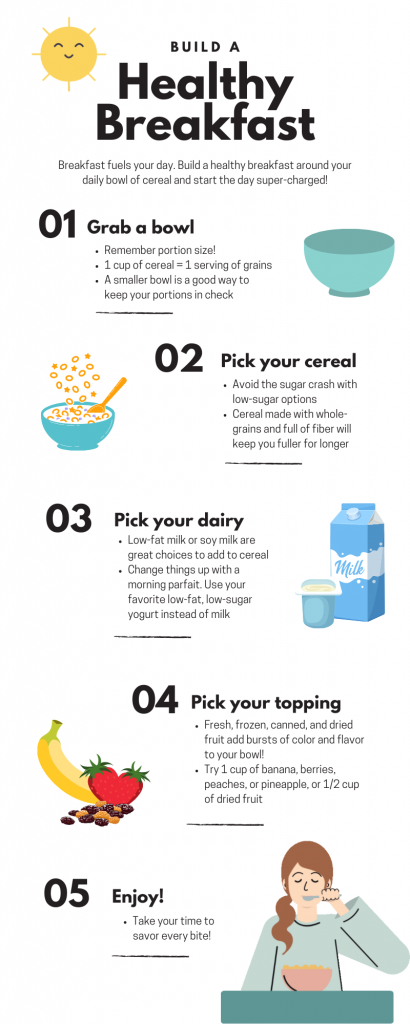 Build a Healthy Breakfast
Breakfast fuels your day. Build a healthy breakfast around your daily bowl of cereal and start the day super-charged!
Grab a bowl
Remember portion size!

1 cup of cereal = 1 serving of grains

A smaller bowl is a good way to keep your portions in check
Pick your cereal
Avoid the sugar crash with low-sugar options

Cereal made with whole-grains and full of fiber will keep you fuller for longer
Pick your dairy
Low-fat milk or soy milk are great choices to add to cereal

Change things up with a morning parfait. Use your favorite low-fat, low-sugar yogurt instead of milk
Pick your topping
Fresh, frozen, canned, and dried fruit add bursts of color and flavor to your bowl

Try 1 cup of banana, berries, peaches, or pineapple, or 1/2 cup of dried fruit
Enjoy!
Take your time to savor every bite!