Fall can be a wonderful time to explore new foods through seasonal fruits and vegetables. Winter squash, root veggies, tree fruits, and more are ripe and ready for meals. Seasonal produce adds new colors, textures, and flavors to our meals and it tends to be less expensive than out-of-season fresh fruits and vegetables.
You can explore the seasonal produce options highlighted by the USDA, or check out our favorite fall seasonal produce below. We've also shared tested and true recipes for each pick, including many that are great for holiday tables! Keep in mind that if the fresh options are not available or are not a good buy for your budget, dried, frozen, or canned are all great options too!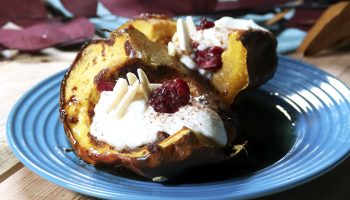 Acorn squash 
Green and orange on the outside, creamy yellow on the inside, acorn squash is both sweet and nutty. It is a good source of vitamins C and A as well as fiber. Try it baked, roasted, or in soups!
Recipe: Baked Acorn Squash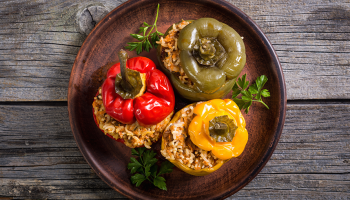 Bell peppers
Bell peppers come in a variety of sizes and colors. They are a versatile veggie that provides vitamins C and A, potassium, and fiber. Try them stuffed, in stir-fry, or on tacos!
Recipe: Stuffed Bell Peppers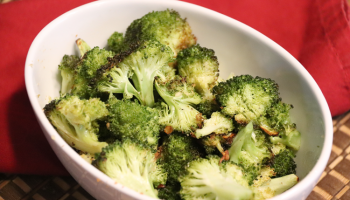 Broccoli
These mini-tree florets are tasty both raw and cooked. Broccoli is a good source of fiber, potassium, folate, and vitamin A, as well as a great source of vitamin C. Try it roasted, sautéed, in salads, and more. 
Recipe: Roasted Broccoli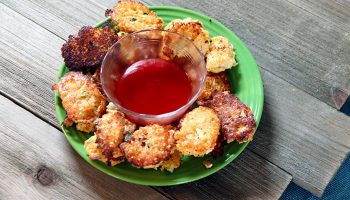 Cauliflower 
Creamy white, buttery yellow, or purple, cauliflower comes in a variety of colors. It is a good source of vitamin C and potassium. Mild in flavor, cauliflower is tasty in salads, sauces, roasted, or turned into tots!
Recipe: Cauliflower Tots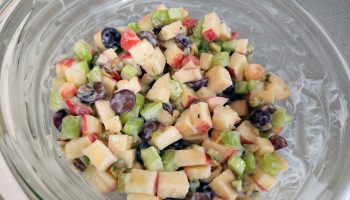 Grapes
Green, red, purple, and black, grapes are a prefect fruit for snacking or adding to other dishes. Grapes are good sources of vitamins C and K. Try freezing grapes for a frozen treat, adding them to salad, or packing them for snacks or in your lunch.
Recipe: Waldorf Salad
Green beans
Green beans are a versatile veggie that are often a star in side dishes this time of year. Full of fiber, vitamin A, and potassium, green beans are delicious in casseroles, soups, stir-fry, and on their very own.
Recipe: Green Beans, Cranberries, & Nuts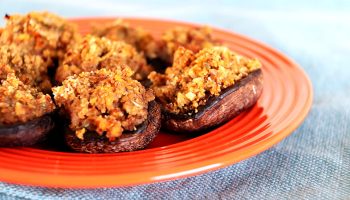 Mushrooms
Mushrooms can provide a meaty texture to dishes and do well as a main dish as well. They provide vitamin D, B vitamins, and potassium along with other nutrients. Try them stuffed, sautéed, grilled, and as topping on pizzas, sandwiches, and pasta.
Recipe: Herb Stuffed Mushrooms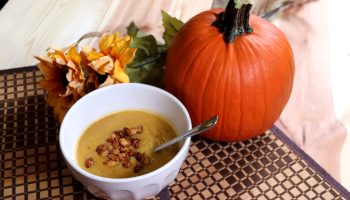 Pumpkin
Pumpkins are one of the biggest symbols of the season, but they aren't only good for decoration and flavoring- they are delicious on their own too! Pumpkins provide vitamin K and A as well as fiber. They are great in soup, chili, sauces, and baked goods.
Recipe: Roasted Pumpkin Soup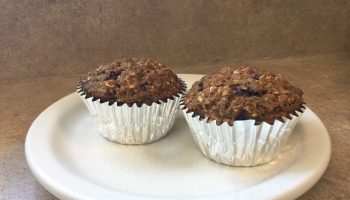 Raspberries
Perfect for little fingers to grab, raspberries are busting with a sweet tartness that tickles the taste buds. They are high in fiber, vitamin C, manganese, and antioxidants. Try them on their own, in baked goods or smoothies, added to salads, or in yogurt parfaits.
Recipe: Raspberry Oat Bran Muffins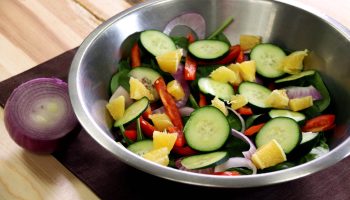 Spinach
Deep green spinach adds color to any plate and is tasty both raw and cooked. Spinach is high in vitamins A and C, and provides potassium and iron. Try it in salads, soup, stir-fry, lasagna, and smoothies.
Recipe: Sunshine Salad
Seasonal produce can vary by area and it is only a good buy if you can use it before it goes bad. Fresh, frozen, dried, and canned produce are all delicious ways to make half your plate fruits and vegetables! Fall into seasonal produce and enjoy the harvest on your plate.